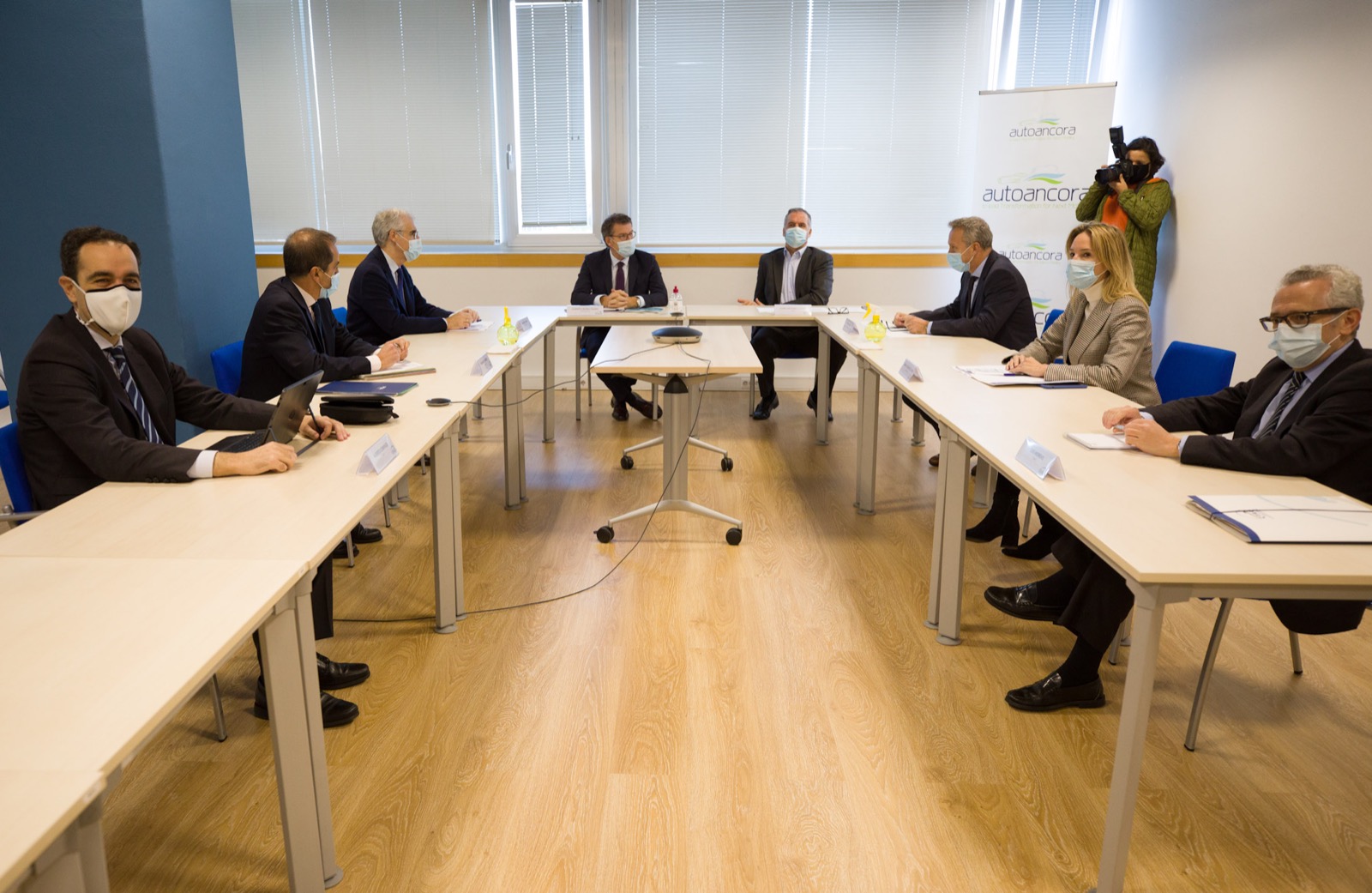 10 November 2020
The Galician Automotive Sector and the Galician Government yesterday formed a working group focused on obtaining aid from the European Commission recovery fund (Next Generation EU). The meeting for the implementation of the sectoral working group, held at the CEAGA facilities, was attended by representatives of the Cluster, the Vigo plant of Groupe PSA and the Galician Automotive Technology Center (CTAG). On the part of the Galician Government, the president, Alberto Núñez Feijóo, the second vice president and minister of Economy, Innovation and Business, Francisco Conde and the delegate of the Xunta de Galicia in Vigo, Marta Fernández-Tapias attended.
To compete for European funds, the automotive sector has drawn up a program of seven initiatives that mobilize around 1,300 million euros. Under the name of AutoAncora, this set of initiatives aims to transform the automotive industrial fabric through a technological, digital and ecological transition based on innovation and the development of manufacturing processes and clean, intelligent and sustainable products, serving as a mechanism of lasting anchorage in their territories.
The managing director of CTAG, Luis Moreno, insisted on the need to "take advantage of European funds to lead the transition and the reactivation of the automotive sector, taking advantage of the industrial reality."
Along the same lines, the director of the Vigo plant of Groupe PSA, Ignacio Bueno, assured that "the spirit of AutoAncora is to improve the competitiveness and productivity of the centers, which will allow them to anchor themselves in the Galician territory and continue to be an economic support and social for the area ".
The president of CEAGA, Juan Antonio Lloves, assured that AutoAncora is an ambitious package of actions that will allow the sector "to continue moving forward in terms of digitization and sustainability".
The president of the Xunta, Alberto Núñez Feijóo, guaranteed his commitment to the Sector so that "Galicia continues to be one of the great European regions in the production of vehicles and components".