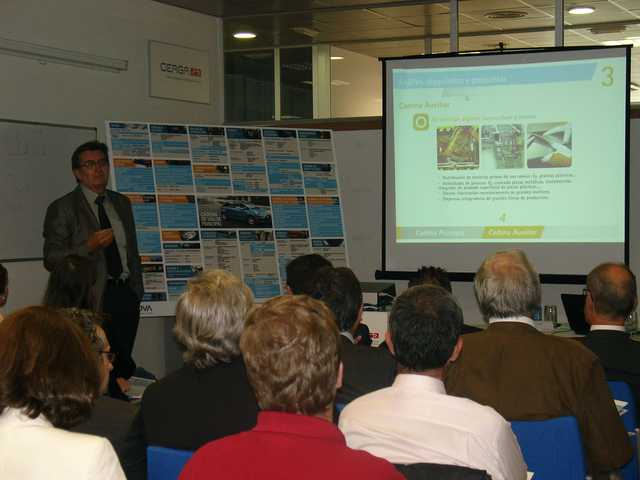 1 October 2008
This report contains, in synthesis, the information, the elements of analysis – diagnosis and the necessary proposals, to design and to implement a program of actions of commercial nature and of development of business, directed to stimulate the growth of the turnover and of the added value, as well as to the strengthening of the structure of the managerial fabric of the Galician Automotive Sector.
The report has been presented to more than fifteen companies of the Cluster last September 30th at CEAGA´s facilities. The results were explained by INOVA, the consulting agency in charge of the accomplishment of the study. Also, IGAPE participated in the event.
As it was described, the methodology of the study relied on a process of withdrawal of information and later analysis. The data was obtained by interviewing members of the Foundation representing 40 % of the companies and adding almost 70 % of the whole of the turnover of the value chain.
In general, and as it is indicated in the conclusions of the Report, it is important to accomplish the consolidation and future development of the Sector, that the Companies, CEAGA and the Administration should confront in a solved way the increasing challenge that supposes for Galicia the development of the industry in emerging LCC countries, with which the logistic differential costs do not suppose a significant barrier. The cases of Tunis, and of Tangier in Morocco, are a good example of it.
The application of defensive actions, such as combined actions of lobby, undertaken by CEAGA – Administration – Financial Institutions, directed to offsetting this generic trend of relocating and decreasing industrial development (not considering in cases the effective total costs derived from the differential logistic ones, from productivity, from quality, etc.), combined with intensive projects of competitive improvement that aim to produce in Galicia at LCC prices, are a vital priority.
Therefore, projects like the widespread application of Lean Manufacturing, the Purchasing Central at CEAGA, the Logistic Platform of the Sector, etc., are mostly determinant.
Please do not hesitate to get in touch with us for further information:
Patricia Solá
patricia.sola@ceaga.com
Tel. 9686 213 790