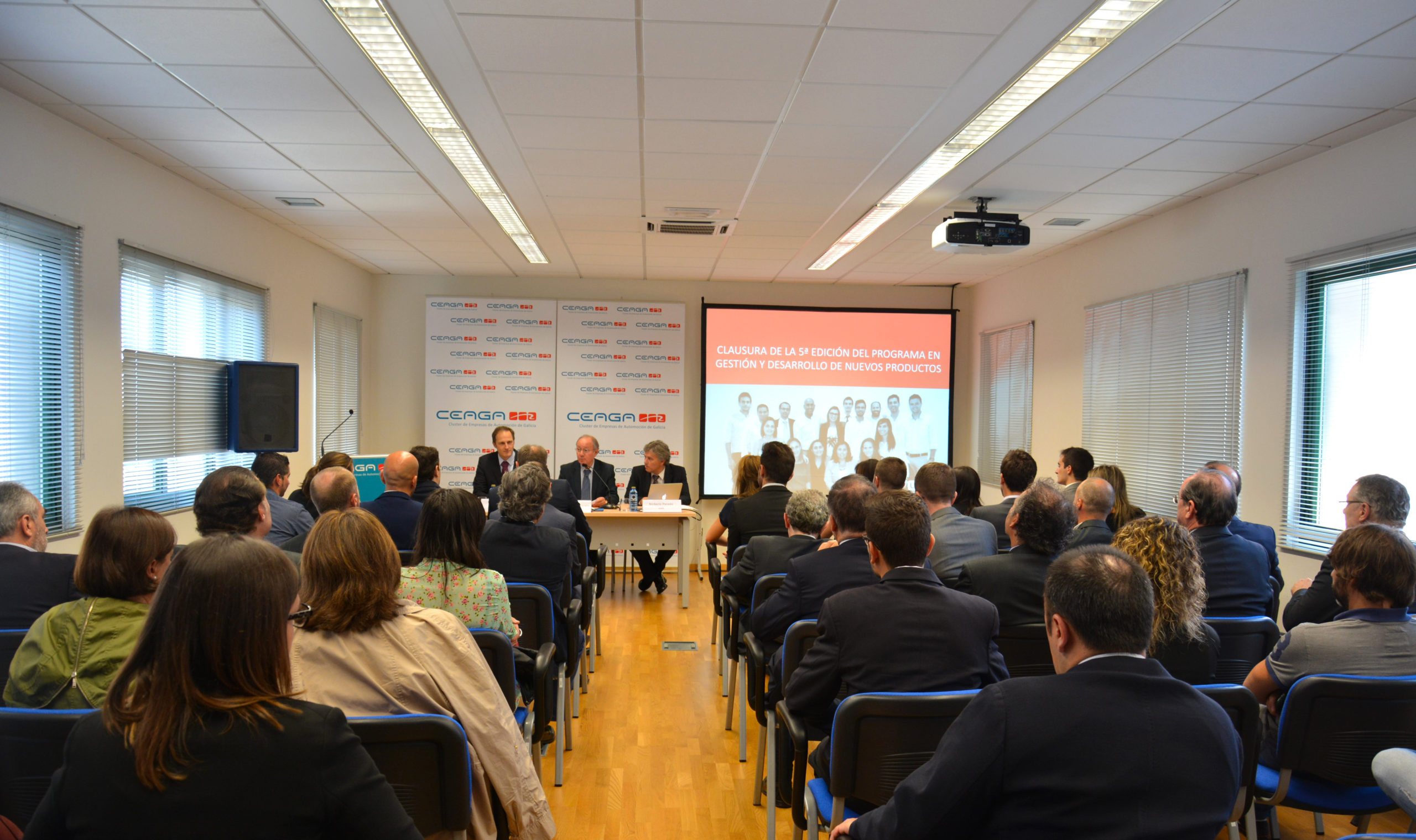 28 September 2015
The Galician Automotive Sector has its own training model that stands out for learning by doing, sharing knowledge and cooperating, so that the automotive industry has professionals that are more competitive. An unprecedented cooperative model thanks to the participation of the companies in the Galician automotive sector.
A clear example of this "learning by doing" training model is the Management and Development of New Products Program of the CEAGA Corporate University, which it has already closed its last edition. During these five years, have been trained 125 professionals from 45 companies of the Cluster, they have developed 26 cooperative innovation projects. A balance that is completed with the acquisition, in 2013, of the one of the most prestigious awards in the area of training and business development, the prize awarded by the EFMD organization.
Last September 25th took place, at the CEAGA Corporate University facilities, the closing ceremony of the fifth edition of this success Program with the presentation of three new innovation projects.
The event was attended by the President of the Cluster, Jose Luciano Martinez Covelo, who was accompanied by the Director of PSA Peugeot Citroen Vigo, Yann Martin; and the Director of the Competitiveness Area of the IGAPE, Norberto Penedo; moreover, students of the last edition and other industry representatives attended the event.
The success of this Program focus on the cooperative innovation projects with a real application in the factories. A good example is the company Maier Ferroplast, who made a first project in the second edition of the Program and, thanks to the positive results, presented a second project in this fifth edition. The work in an automotive piece achieved a reduction of more than 10% of production costs, and the development of a completely new and innovative technology. These results were decisive for the allocation from PSA Peugeot Citroen for the future K9.
Another project, a perfect example of collaboration among CEAGA companies, was promoted by the multinational MGI Coutier and the Galician company, Valver for the development of light-emitting plastic components. This project, which was completed its first phase in the context of the third edition of the Program, subsequently obtained funding from CDTI and, today, continues to move steadily towards a future final application in the vehicle.