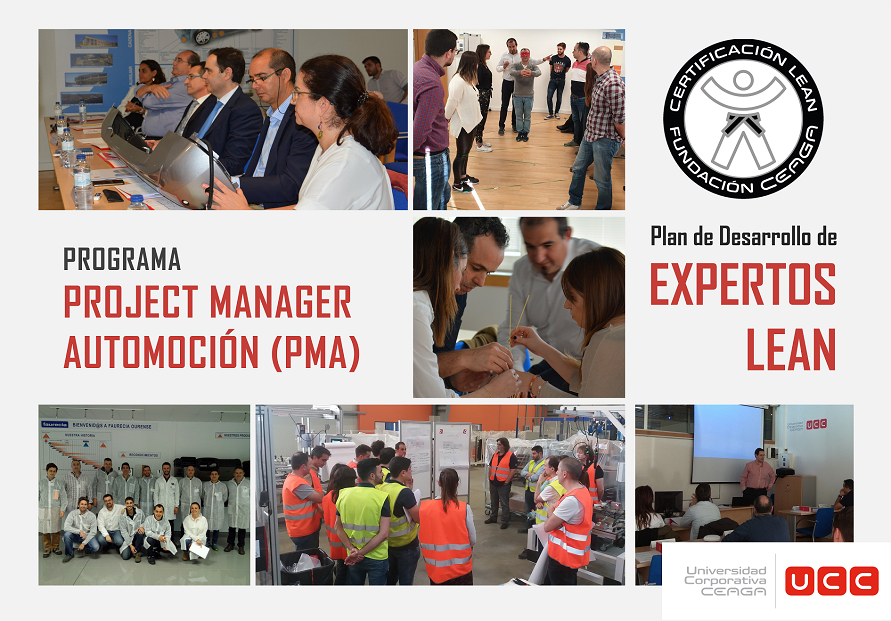 15 September 2021
After a time of stoppage caused by the pandemic, the CEAGA Corporate University (UCC) will soon resume the launch of two reference training programs in the Sector: Automotive Project Manager (PMA), which will start its fourth edition in January, and the Lean Expert Development Plan (PDEL), which is scheduled for February.
The registration period for the Automotive Project Manager program will open in October with the aim of providing participants with knowledge, tools and skills that allow them to become qualified professionals to manage projects in the automotive sector. This program, which also includes training in personal skills, is based on learning in action, combining the presentation of contents and real cases of the Sector, with visits to production plants and the realization of real projects as a team. It also has a teaching team made up of prestigious experts and professionals with extensive experience in the Sector.
After three completed editions, it draws on the experience gained in the five editions of the "Management and Development of New Products" program, also organized by the UCC and in which a hundred project managers were trained. He was awarded the prestigious international prize given by the European Foundation for Management Development.
On the other hand, in November, a new call will be launched for the Lean Expert Development Plan, organized to improve the Lean competencies of the participants. It is a totally practical program, structured in four levels of training (Initiation, Junior, Senior and Expert), according to the degree of specialization and complexity of the Lean tools that are covered.
Since its launch in 2009, more than 350 professionals from the Sector, from 44 companies, have participated in the program, 210 "active learning" sessions have been held in plants of participating companies and they have been carried out and audited successfully 280 Lean projects.