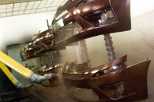 7 July 2008
The Master in Technologies and Processes in the automtoive industry is born with a double objective:
 To train recently graduated students " as quarry " to provide the Galician automotive sector with young specialists in the areas of Processes and Technologies.
 To raise the abilitites in the mentioned areas of the professionals working in the companies with experience in the sector, facilitating the update of knowledge and the exchange of experiences
The Master that will develop principally in the Senior Technical School of Industrial Engineers, starting from September 24, 2008 to July 24, 2009 in schedule of 16:00 to 21:00h on Thursday and Friday and of 09:00 to 14:00 every Saturday.
In-Company Training:
CEAGA will study the possibility of offering remunerated practices parallel to the accomplishment of the Master.
Detailed Information and Pre-enrollment:
In the following web page it is possible to obtain detailed information on the Program:
Http: // Webs.uvigo.es/masterautom/
For furthet information, please contact:
Secretariat of the Master in Automotion
Tel. 986 812 006 / 986 818 628