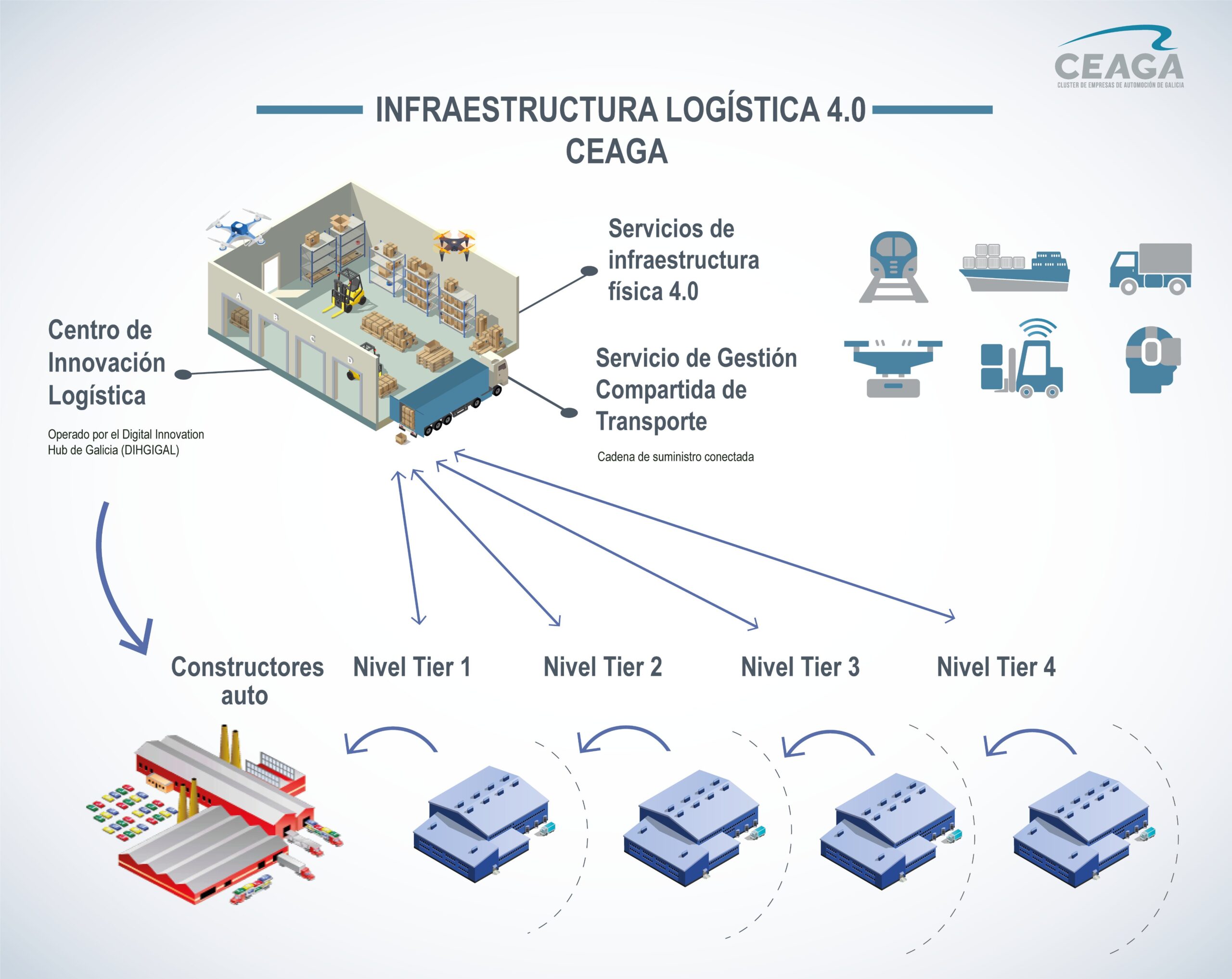 22 June 2020
This morning the President of the Xunta de Galicia, Alberto Núñez Feijóo, accompanied by the Regional Minister of Economy, Employment and Industry, Francisco Conde has visited the CEAGA facilities to know at first-hand the "Logistics Infrastructure 4.0" project, promoted by the Cluster.
At the meeting, where the President of CEAGA, Juan Antonio Lloves, accompanied by the Treasurer, Roberto Cavallo, also participated in a detailed explanation of the logistics platform project in which CEAGA works to solve the existing problem in many companies in the Sector, where Inbound and outbound logistics costs exceed personnel costs. In addition, the supplier industry has tripled its exports in recent years, reaching 1,850 million euros in 2019.
The project was born with the aim of developing a shared intelligent logistics infrastructure that allows increasing the efficiency of the supply chain and expeditions of the Galician industry in a context of globalization and intersectoral cooperation, which will allow Galicia to be positioned as an ideal region for the activity industrial for its advanced logistics.
Its implementation will allow managing and optimizing the logistics flow of companies in the different Galician industrial sectors: automotive, food and naval, giving rise to a comprehensive and inclusive infrastructure that reinforces all the agents involved.
The infrastructure will enable intermodal logistics management that will promote maritime and rail transport. It will be directly connected, by train, with the automobile and container terminals of the Port of Vigo, which has numerous advantages. In addition, it allows to increase the range of connection opportunities with the rest of the world since it connects, in one direction, with the motorway of the sea (Nantes-Saint Nazaire) and in the other with the routes to Tangier and Algeciras.
The President of the Xunta stressed that the project presented by CEAGA is "very innovative, unique in Europe and emblematic of the digital transformation in Galicia, since it will have the latest 4.0 technologies." It will function as a consolidation center combined with an advanced management system, which will improve logistics efficiency, both at the value chain level and individually for interested companies, while designing and testing new technologies and creating opportunities of business.
For his part, the President of CEAGA, stated that "the implementation of the infrastructure will reduce the logistics costs of the Galician industry by 20%, which will contribute to reducing the environmental impact." In addition, it follows the trend marked from Europe with the Green Deal to boost the clean and zero emissions economy.
Regarding the technical part of the platform, it will present three functionalities: Shared Transportation Management service, physical Infrastructure service and Logistics Innovation Center, managed by the Digital Innovation Hub of the Galician Industry accessible to carry out awareness-raising, training, demonstration and experimentation of new technologies on real operations.