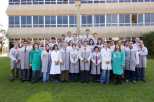 1 October 2008
A group of more than 50 pupils of the first promotion of the Master in Technologies and Processes of the Automotive Industry, organized by the University of Vigo in collaboration with CEAGA, the PSA Peugeot Citroën Vigo Centre and CTAG, have visited on September 30th the factory facilities to experience its activities first hand.
The students were greeted by Sergio Faraudo, The Director of Social and Human Relations of the Centre, who made a brief presentation of the factory and joined them during a tour of the different ships of the plant. This visit places falls under the practical activities of the Master that aim to portray "in situ" the processes of the different sector companies.
Training young specialists:
The Master in Technologies and Processes of the Automotive, which began last Wednesday, the 24th of September, is born with the objective to train newly titled to provide the Galician Automotive Sector with young specialists in the areas of processes and technologies. Likewise, it also tries to raise the competitions in these areas of the professionals already members of the companies, facilitating the updating of knowledge and the exchange of experiences.
This first promotion is formed by 60 participants, whose profile includes newly titled professionals without experience in the sector, PSA´s businessmen and professionals of the cluster companies, as well as of other companies related to the sector.
Qualit formation:
The Master, which is recognized by the Department of Education, is given at the Technical Superior School (ETA) of Industrial Engineers of Vigo and develops in different theoretical and practical meetings that will cover a whole of 1.000 hours training.
The panel of professors is composed by teachers and researchers of the University of Vigo, as well as professionals and experts in processes and technologies of the CEAGA companies, of the The Galician Automotive Technology Centre (CTAG) and of PSA Vigo Centre.
For further information, do not hesitate to contact us:
Karina Fernández
karina.fernandez@ceaga.com
Tel. 986 213 790