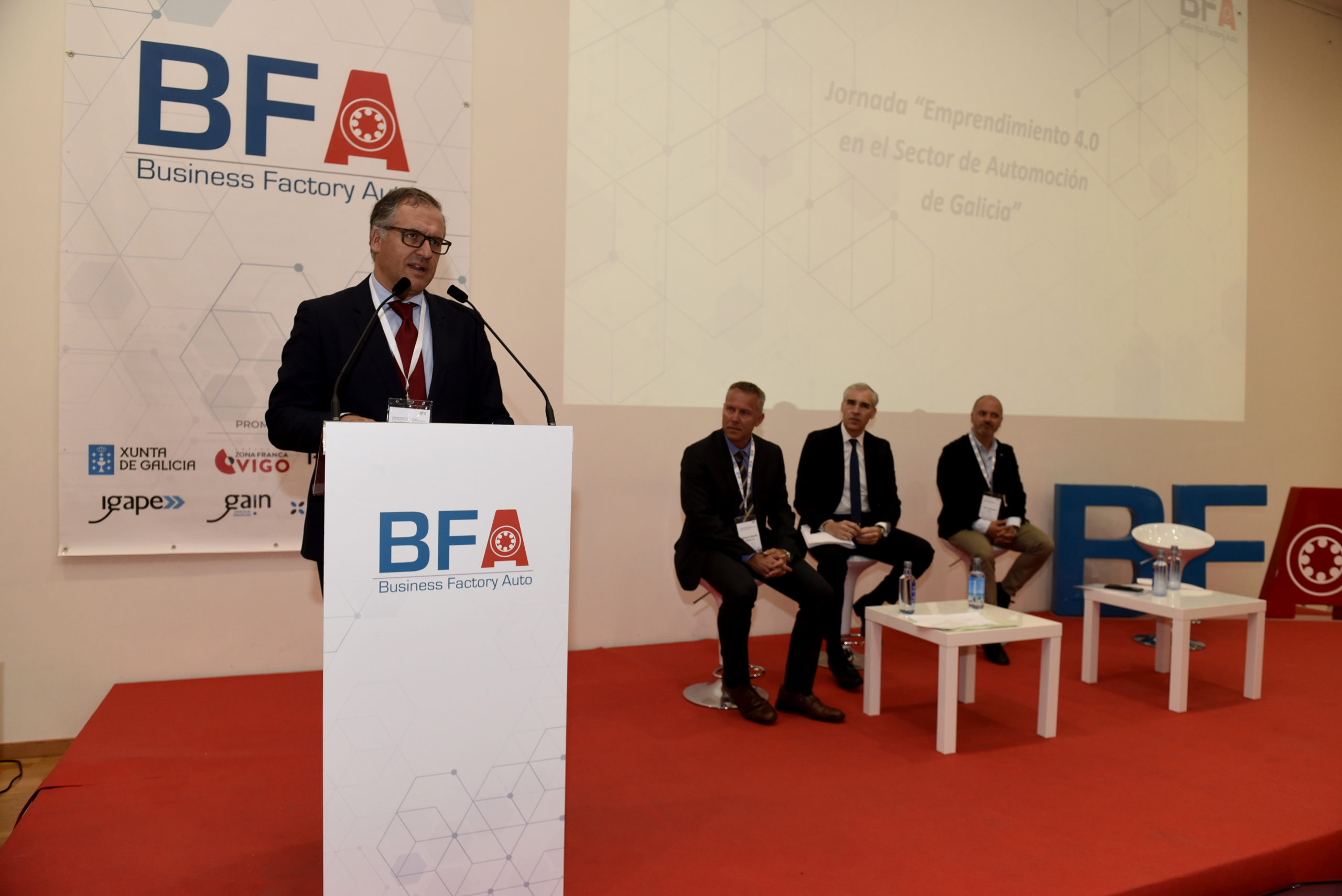 18 June 2019
Yesterday was held, at the Porto do Molle Business Center (Nigrán), the "Entrepreneurship 4.0 in the Galician Automotive Sector" day, organized by the Business Factory Auto (BFA) initiative and attended by more than 250 assistants.
The event featured the presentation of 4 success stories of participating projects in the third edition, which were accompanied by companies that tutor them during this edition. This is the case of TechEye and Plastic Omnium Equipamientos Exteriores; Mobocen and Groupe PSA; Efimob EV Charge and Parsec Iberia; and IiÖR and Groupe PSA. Subsequently, a round table of professionals from the Sector was held, where they discussed the challenges and opportunities of "entrepreneurship in the automotive sector".
In addition, the meeting was attended by Bernardo Hernández, CEO of Verse Technologies and with extensive experience in entrepreneurship and new technologies. He held the position of Director of product at Google and is linked to companies such as Idealista, Glovo or Wallapop. During his presentation, he exposed the main changes of the digital revolution and the need for new leadership.
Finally, the event was closed by the President of CEAGA, Juan Antonio Lloves; the Director of the Vigo Center of Groupe PSA, Ignacio Bueno; the Delegate of the Free Trade Zone of Vigo, David Regades; and the Regional Minister of Economy, Employment and Industry, Francisco Conde.
At the end of the event, attendees were able to visit the different exhibitors of the BFA projects and see first-hand the innovative solutions they offer.
In this meeting, it was also announced that the fourth call for the initiative is being worked on. The dates, the regulatory bases and all the information of the new edition will be published on the BFA website: www.bfauto.es