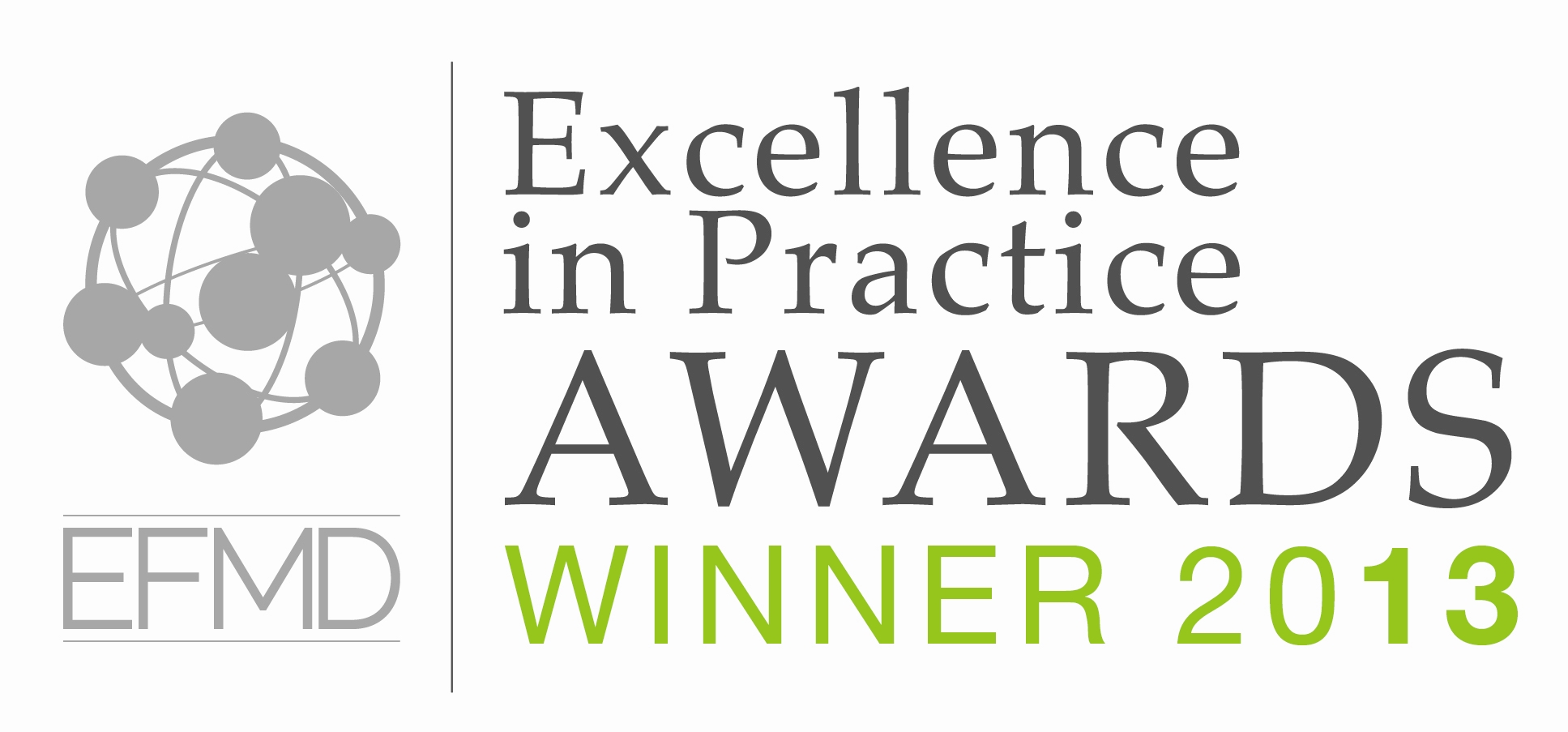 8 July 2013
The EFMD Excellence in Practice Awards (EIP) recognise outstanding Learning and Development partnerships. Galician Automotive Cluster (CEAGA) and CEAGA's Corporate University is delighted to announce that they have been awarded the winning prize in the category of special cases – Network Partnerships for: "Corporate Turnaround: Focusing, Aligning and Building for Success."
Now in its 7th year the EFMD Excellence in Practice Awards are considered to be one of the most important awards in the Learning and Development community. The winning cases must demonstrate strong business impact, excellent programme management and operational excellence.
The winning project was the "Management and Development of New Products" Programme because the Jury affirmed: « The case gives an excellent overview of an effective and courageous network initiative to strengthen the Galician automotive sector and the region in a challenging environment. The growing commitment and partnership of very heterogeneous regional organisations for an action-learning and real-project based programme design, cost-effective pilot execution and diverse impact indicators are remarkable as are the learning transfer to sector trainers and to other regions and industry sectors of Spain.
"I would like to warmly congratulate the Galician Automotive Cluster and CEAGA's Corporate University for their outstanding case. Providing an environment that helps to engage and develop people and enhances skills is an essential component for any company and this case clearly show that investing in people is not a luxury; it is a key strategic asset for success," said Dr. Richard Straub, Director of Corporate Services at EFMD.
In other categories of EFMD awards 2013 the winning projects were the following organizations: Danone and London Business School, HEC Paris Atos and Danske Bank Sweden and Stockholm School of Economics IFL Education, EDF and Toulouse School of Economics.
Moreover, received special mention presented projects by important organizations such as: Airbus and IESE, Repsol and BTS, Royal DSM and Wharton, among others.
The winning partnerships will be presented during EFMD Development Conference hosted by the Stockholm School of Economics IFL Education, Stockholm, Sweden on the 9-11 of October.
EFMD – the European Foundation for Management Development is a global, membership driven organisation, based in Brussels. As the largest international network association in the field of management development, the EFMD network includes over 800 institutional members and reaches over 25. 000 management development professionals from academia, business, public service and consultancy across 80 countries worldwide. EFMD is a unique forum for information, research, networking and debate on innovation and best practice in management development.
For more information on the awards please visit www.efmd.org/eip.