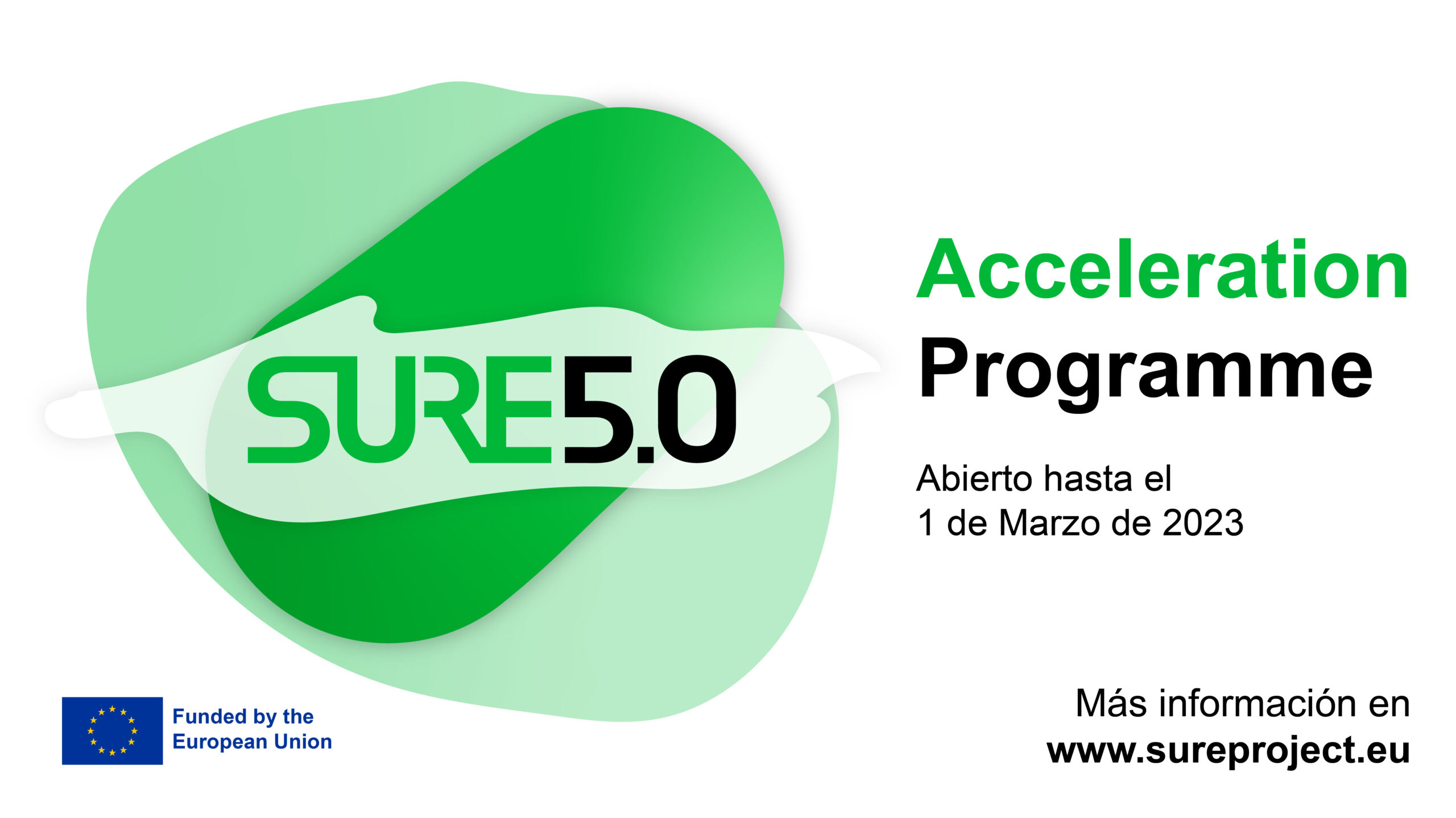 12 January 2023
Within the framework of the European project SURE5.0, in which CEAGA participates, the first open call for aid has just been launched to help SMEs adopt Industry 5.0 technologies or services. To this end, the project will promote the adoption and deployment of advanced technologies, as well as the consideration of social innovation practices, which facilitate their double transition (green and digital).
The program is divided into two phases: in phase 1, selected companies will benefit from individual assessments and personalized services, while in phase 2, they will be able to access 50,000 euros of funding to implement their 5.0 transition plan, as well as continue receiving other tailor-made services. During the execution of the European project SURE5.0, two aid programs will be launched with a total budget of 2.6 million euros in cascading funds for SMEs.
Companies in the Mobility, Transportation and Automotive (MTA) sector interested in participating in this first call must carry out the following steps:
1º Fill out a self-assessment questionnaire to find out your current situation regarding Industry 5.0.
2º Apply to phase 1. To do this, companies must fill out a small form, to which they will attach a technical annex, as well as the self-assessment report carried out in the first step. The deadline to submit the application is March 1, 2023 at 5:00 p.m.
3º If you have been selected in phase 1, you can apply for phase 2 of the call, sending your transition plan 5.0 through the F6S platform. The application period is expected to open in August 2023.

All relevant information about the first grant program is available on the SURE5.0 project website. In addition, on January 19, at 10:00 a.m., there will be an informative session in online format to explain the call and resolve doubts. Those interested can attend the session by registering at the following link.
SURE5.0 is an initiative funded under the European Union's Horizon Europe programme. Its main objective is to support SMEs in the industrial ecosystems of Mobility, Transport and Automotive; Aerospace and Defense; and Electronics, so that they can integrate the principles of Industry 5.0 into their manufacturing processes, so that they are focused on people and are more sustainable and resilient. In addition to CEAGA, the project is promoted by 10 partners from 8 different countries: Aerospace Valley (France), AIMEN (Spain), ANFIA (Italy), Corallia (Greece), EIT Manufacturing West (Spain), Fraunhofer IPT (Germany), F6S Network Ireland Limited (Ireland), Iniziativa (Italy), Silicon Alps Cluster (Austria) and Taltech University (Estonia).