Turnover




Employees




PDF File
Download file

Company description
Talleres Covi, S.L. (Cincados Covi) was founded in Vigo in 1973. They started out as an auxiliary company in the automotive industry and have continued the same activity since then; 95% of their work is directed to the auxiliary automotive industry. Their range of services is very limited but they are very specialised and few companies work in the same activity. Their services are designed to improve the properties of primary materials (iron and steel) onto which various coatings or surface treatments are applied. These include electrolytic zinc coating, degreasing, stripping and phosphating of steel.
Products and services
Auxiliary services
- Electrolytic zinc coating consists of plating the steel (not stainless) with zinc to improve the primary material´s surface properties: wear resistance, increased hardness, corrosion resistance and improved appearance (colour, shine).
- Stripping consists of eliminating rust and metal particles from the surface of the primary material (iron or steel). There are various methods of stripping; in this case chemical stripping with acid dissolved in water, with other additives which may be inhibitors, humectants , surfactants or anti-foaming agents are applied.
- Degreasing can be a preliminary step prior to zinc coating or stripping when parts come pre-greased; it can also be a stand-alone process. It consists of removing oils and grease from the surface of the iron or stainless steel. It is carried out by immersion or by electrolytics.

Processes and technologies
Surface treatments and finishes
They have two industrial units on the A Granxa industrial estate:
- The first is a warehouse where parts are stored prior to treatment or after treatment, awaiting collection; as well as the materials required for performing the processes.
- The other is the factory where the services offered by the company are carried out. They have the following equipment: 4 Rack Zinc Electroplating lines, 2 plating barrels and 1 deburring barrel.

Main customers
GKN Driveline Vigo, Precisgal Componentes Automoción, Grupo Gestamp, Grupo Borgwarner, Inoxidables
Fegosan, Lear Corporation and Grupo Esypro.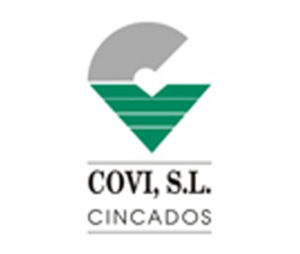 Contact
Address and phone
Polígono Industrial A Granxa Rúa F - Parcela 82-83
36400 Porriño
Phone: 986 346 257
Fax: 986 346 285
Web / Email

www.cincadoscovi.com

cincadoscovi@cincadoscovi.com
Return to the catalog