Turnover




Employees




PDF File
Download file

Company description
The Precigal Group starts its activity in 1978. Since then they have been constantly evolving (in terms of size, means and workforce) to offer their clients the best quality and services. Precisgal Utillaje is involved with the manufacture of inspection tools, means of production for the automotive, food tinning and pharmaceutic industries as well as high-precision tools in special alloys.
Products and services
Auxiliary services
- Precision tools
- Conventional and fine blanking dies
- Blow moulding
- Inspection equipment
- Models and prototypes
Processes and technologies
- High-precision machining
- Turning, milling, spot-drilling and 3 & 5 axis machining
- Flat, universal and coordinate grinding
- Wire and die-sinking EDM
Main customers
GKN Group, Ardagh Group, Domiberia Group, etc.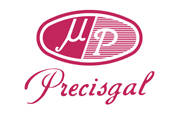 Contact
Address and phone
PTL de Vigo, Calle B - Parcela 10.06
36315 Vigo
Phone: 986 475 000
Fax: 986 475 001
Web / Email

www.precisgalgroup.com

comercial@precisgalgroup.com
Return to the catalog