Ingeniería Gallega de Sistemas Automatizados, S.L. (Ingalsa)
Turnover




Employees




PDF File
Download file

Company description
Ingalsa is a company dedicated to the design, manufacture and installation of all types of machinery and means of control. Designs and builds machines and manufacturing lines adapted to specific customer needs for the automation process. In all machines and developed automatism assumes full responsibility of the projects, from the design to the launch.
Products and services
Auxiliary services
Automation and robotics

Engineering

Machinery and small integrated lines
The main lines of work are as follows:
• Design and manufacture of special machinery
• Robot systems
• Machine Vision Applications
• 100% control machines
• Process automation
Processes and technologies
Assembly

Metal shaping

Other technologies
It has the following own means to carry out turnkey projects:
• Design engineering
• Department of PLC, CNC, Robotics and Artificial Vision programming
• Section of mechanical manufacturing
• Section of installation and adjustment
• Automatic Department
• Section of control and measurement
It has 300 m2 of technical office and a warehouse of over 1,000 m2 with 5 axles and 3 axles machining centers, milling machines, lathes, grinders, etc. It performs machining in 5 axles CAM with NX CAM 9 software. It has a heated metrology room with three dimensional CNC.
Main customers
TRW, Dalphi, Faurecia, Akwell Vigo Spain, Visteon, etc.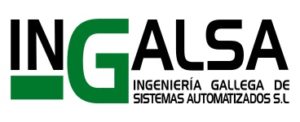 Contact
Address and phone
Camiño Romeu 27
36213 Vigo
Phone: 986 277 608
Fax: 986 487 144
Web / Email

www.ingalsa.com.es

ingalsa@ingalsa.com.es
Return to the catalog