Fundación CTAG – Centro Tecnológico de Automoción de Galicia
Turnover




Employees




PDF File
Download file

Company description
CTAG, the Galician Automotive Technological Centre, is an entity created in 2002 involved in the research, development and technological innovation for the automotive industry. More than 600 engineers and technical personnel work at the different stages in the development of new products and processes, from applied research through to validation during its serial production.
Products and services
Auxiliary services
Engineering

Process outsourcing

Technological centres
CTAG offers integral solutions for the development of innovations and big industrial projects. It is involved at all development stages, from applied research and concept definition through to product-process validation. Additionally, CTAG carries out its own research lines with regard to the future of the Sector, among we can stand out: ADAS systems and autonomous driving; New materials (bio-polymers and intelligent materials); Industry 4.0
The Centre provides services in the following areas: CAD Design; Calculation and virtual simulation; Rapid prototyping; Electronics: Development of vehicle intelligent systems (HW, SW & HMI) and ADAS systems validation, automated driving, connectivity, electro-mobility and comfort; Testing laboratories: vibration and acoustics, fatigue, climate, materials, engine, metrology; Passive safety; Process engineering: flow and layout analysis, design, simulation and development of automated cells, control systems by artificial vision, design of production and control tools, collaborative robotics, digitalisation and big DATA (industry 4.0); Technological consultancy.
Processes and technologies
Facilities and equipment for testing both complete vehicles and automotive systems and components:
• Low speed tracks
• Driving simulator
• Inverse catapult to carry out impact tests with instrumented dummies
• Software to perform calculations on structural, impact, fluid-dynamics, vibration and kinematic studies
• Laboratory for plastics injection
• Laboratory focused on Industry 4.0 processes
Main customers
Stellantis, Borgwarner, Viza, ZF, Faurecia, etc.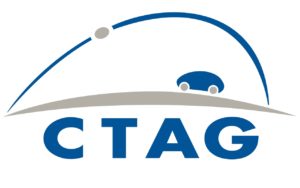 Contact
Address and phone
Polígono Industrial A Granxa Rúa A Parcela 249-250
36400 Porriño
Phone: 986 900 300
Fax: 986 900 301
Web / Email

www.ctag.com

ctag@ctag.com
Return to the catalog