Turnover




Employees




PDF File
Download file

Company description
Aludec was founded in 1984 and is dedicated to the manufacture of decorative parts for the automotive industry. It is based on an interchange of various technologies to offer a diverse and wide range of original and innovative products that can be prepared in various finishes. Aludec has a R&D centre that is directly in contact with the design departments of constructors to capture market trends and develop appropriate solutions. Located in Galicia, Aludec works with all the constructors and delivers parts around the world; among other things, they are one of the world´s leading manufacturers of badges and monograms.
Products and services
Module or function
Boot

Cockpit

Door module

Driving position

Exterior elements

Front End

Ground contact system
- Badges and Monograms: injected and chrome plated and / or screen printed stamped sheet aluminium. Aludec has patented a system for injection moulding the new Ford bi-tone badge.
- Sill plates: in stainless steel or aluminium, embossed, printed or brushed.
- Bumper scuff plates: injection moulded and chrome plated or decorated with thermoform film and printed with personalised decoration developed by Aludec´s design department (IMD ). Striping (adhesive decorative films).

Processes and technologies
Assembly

Metal shaping

Plastic shaping

Surface treatments and finishes
Aludec has various in-house technologies: stamping and embossing aluminium or stainless steel; screen-printing in whiteroom of various films (PVC, ABS, PC and aluminium); painting; cutting and machining of various materials; injection moulding. The company has machinery ranging from 80t to 650t and IMD specific machinery (in-mould decoration); HP thermoforming; tampography; chrome plating of plastic pieces (micro-porous, micro-brushed, Chrome III ).

Main customers
Ford, GM, VW Group, Stellantis, BMW, Mercedes, Porsche, Rolls-Royce, Fiat, RNA/Nissan, Toyota, Faurecia, Delphi.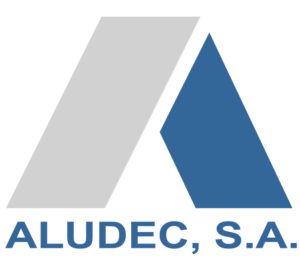 Contact
Address and phone
Parque Empresarial A Reigosa, parcela P1
36828 Pontecaldelas
Phone: 986 451 700
Fax: 986 451 253
Web / Email

www.aludec.com

comercial@aludec.com
Return to the catalog