Turnover




Employees




PDF File
Download file

Company description
Adhex Tech Tapes, established in 2001, is a wholly owned subsidiary of Adhex Technologies. This company is involved with the manufacture of adhesive and protection solutions (water-tightness, acoustic, thermal and surface) for the automotive industry (OEMs and Tier1). The company currently has the ISO/TS 16949 certificate for quality management in the automotive industry and the ISO 14001 one for environmental management. Furthermore, the production plant in Porriño is recognised as a Q1 supplier by Ford and of Level 1 by the VW Group. In the coming years they will strive to achieve the OSHAS 18001 certification as well as the recognition of their activity in a sustainable and social responsibility environment. The site has 4,880 m2 of covered surface and 2,000 m2 of open ground.
Products and services
Module or function
Boot

Central console

Cockpit

Door module

Electrical wiring

Engine compartment

Exterior elements

Floor coating

Front End

Ground contact system

Rear end

Roof

Seats
This company manufactures and sells products and adhesives for vehicles, classified in accordance with the following structure:
1. PROTECTION: against water or water-tightness function (watershields, foam and film shutters); acoustic (door panels, wheel arches, lower engine covers, boot interiors, roofs and instrument panels, in PU foams, PET fibre, PP fibre and felts); thermal (air conditioning system insulation, in PET and PP fibres and PU foams); surfaces (under-seats, bodywork bump protection -bumpers, anti-gravelling protection and multi-material anti-corrosion in PE foams, PU film, aluminium and zinc).
2. IDENTIFICATION | REGULATIONS: all types of labels for vehicle interiors and exteriors (sun-visor, chassis, wheels).
3. DECORATION: decorative adhesives for stripping, in resin, black PVC (door pillars).
4. ADHESION: technical adhesives used as a complement to the groups above and for direct sale.
Processes and technologies
Other technologies

Plastic shaping

Textile shaping
Thermoforming; automated adhesive application (hotmelt, butyl rubber); die-cutting; adhesive transfer with corona treatment station (which improves adherence); adhesive cutting machines.
Main customers
Stellantis, Ford, Renault, VW, Audi, Seat, Mercedes-Benz, Nissan, etc.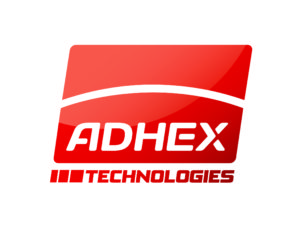 Contact
Address and phone
Polígono Industrial A Granxa - Parcela 209
36400 Porriño
Phone: 986 346 800
Fax: 986 452 612
Web / Email

www.adhex.com

info@adhex.es
Return to the catalog