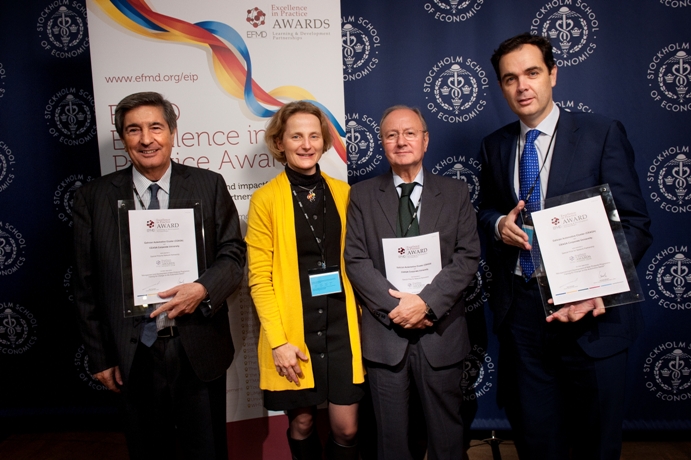 14 October 2013
The President of the Cluster, José Luciano Martínez Covelo, received on behalf of CEAGA, last October 10th, one of the five awards of the international organization "European Foundation for Management Development" (EFMD), specifically that of the "Network Partnership" special category.
The awards ceremony took place in Stockholm, from October 9th to 11th, during the EFMD Conference, where CEAGA's Manager, Alberto Cominges, and the Director of the CEAGA Corporate University, Pedro Piñeiro and Carla Jiménez, UCC Coordinator made a presentation about the operation of the Cluster and the Galician Automotive Sector and detailed in depth the award-winning "Management and Development of New Products Programme".
The rest of entities recognised with the EFMD award 2013 shared their success cases too, so CEAGA attended a best practices exchange experience with important organizations such as Danone, London Business Shool, Atos, HEC Paris or Danske Bank Sweden.
Excellence in practice winners to date include:
• ArcelorMittal
• Ashridge
• Atos
• BAE Systems
• Bentley University
• CEAGA
• Center for Creative Leadership (CCL)
• Danone
• Danske Bank
• EDF
• Emerging World
• Goldman Sachs
• HEC Paris
• HSBC
• INSEAD
• Impact
• ING
• KickApps Startup
• Lake Forest Graduate School of Management
• Leeds University BS
• London Business School
• Lonza
• Lufthansa
• MAN
• Merck
• Microsoft
• ORMIT
• Pon Holdings
• Prism Venture Capital
• RBS (Royal Bank of Scotland)
• Royal Philips Electronics
• Saïd Business School
• Siemens
• State Street Corporation
• SSE IFL Exec Education
• Swiss Re
• The National Trust
• The Wharton School
• 'the world we work in'
• TMA World
• Toulouse School of Economics
• UMass Boston
• University of St. Gallen
• WHU, Otto Beisheim School of Management