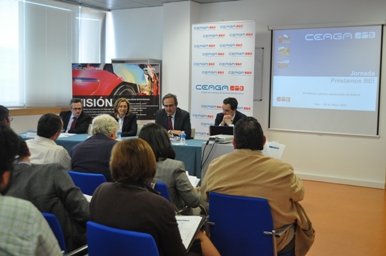 20 May 2010
Last Tuesday, 18th of May, the Cluster organized a workshop to present to the CEAGA companies the conditions and procedure to access the European Investment Bank (BEI) loans, specifics for the automotive sector, and managed by IGAPE.
In this initiative (focused also in solving the companies doubts that already have initiated the process of requesting this help) have participated Joaquín Varela, IGAPE General Director and Cristina Quintela, Financial Director of this organism.
This informative workshop was very well welcomed by CEAGA companies, around 40 people of 25 different companies attended the event.
If you wish more information about the BEI loans, do not hesitate to contact us:
Teresa Pereira
teresa.pereira@ceaga.com
Tel. 986 213 790