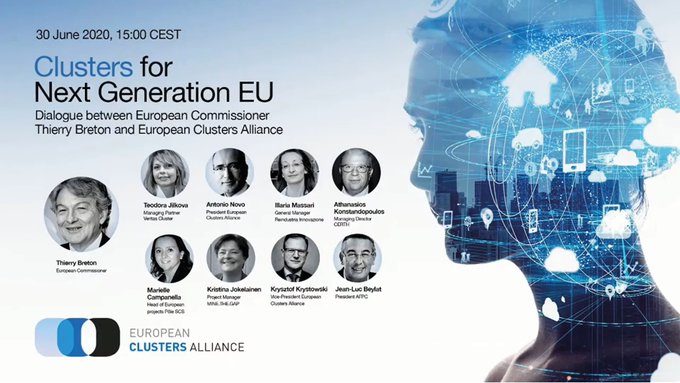 2 July 2020
CEAGA participated, on Tuesday June 30, in a virtual meeting with the European Commissioner for the Internal Market, Thierry Breton, and the European Clusters Alliance to analyze the role of clusters in Europe's recovery plan in the face of the economic and social crisis caused by the Covid-19 pandemic.
To ensure that the recovery is sustainable, equitable, inclusive and fair for all member states, the European Commission proposed, last May, to create a new recovery instrument, Next Generation EU, with a long-term view. In addition, the Commission also presented its roadmap for 2020, which will prioritize the actions necessary to promote the recovery of Europe, and that is why it wanted to meet with the European Clusters Alliance to study the role that clusters will play in this plan.
Among the strong ideas drawn from the meeting, it was stated that, in the new scenario marked by uncertainty, clusters must act as industrial ecosystems united through the digital network. In fact, digitization will be a key piece to face new challenges, so clusters must pay special attention to promote innovation and help companies adapt to the new paradigm of digital transformation.
The European Commissioner for the Internal Market, Thierry Breton, also highlighted the concept of the value chain and pointed to cooperation as a way forward to undertake initiatives of high strategic value that help to repair the damage caused by the crisis. In addition, he advanced his idea of ​​speaking with all the industry ministers so that they lean on the Clusters in their objective of promoting competitiveness and open innovation.