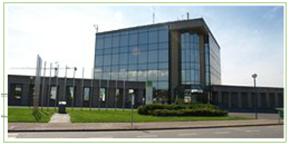 9 February 2012
Students from the two groups of the second edition of the "Management and Development of New Products" Program have new training facilities in Vigo and Ourense.
Since early this year, the UCC organizes the training for the Ourense's group in a classroom provided by Tecnopole, Technological Park of Galicia. At these new facilities the 15 students in Ourense receive the knowledge necessary to acquire the versatility required in the development of an automotive innovation project.
Tecnopole manages the Innovation and Business Center, which is an area specially equipped to accommodate companies with a strong innovative and technology-based character, offering high added value services and infrastructures to those companies which require its use, including facilities specially designed for entrepreneurial projects starting their business activity.
The 21 students of the Vigo group also have new facilities where they receive training classes. These take place at the new headquarters of the CEAGA Corporate University, the "Hogar San Pelayo" (Gota de Leche) building, located at the Ronda de Don Bosco street and provided by the Xunta de Galicia.
For more information:
Carla Jiménez
carla.jimenez@ceaga.com
Tel. 986 19 50 56