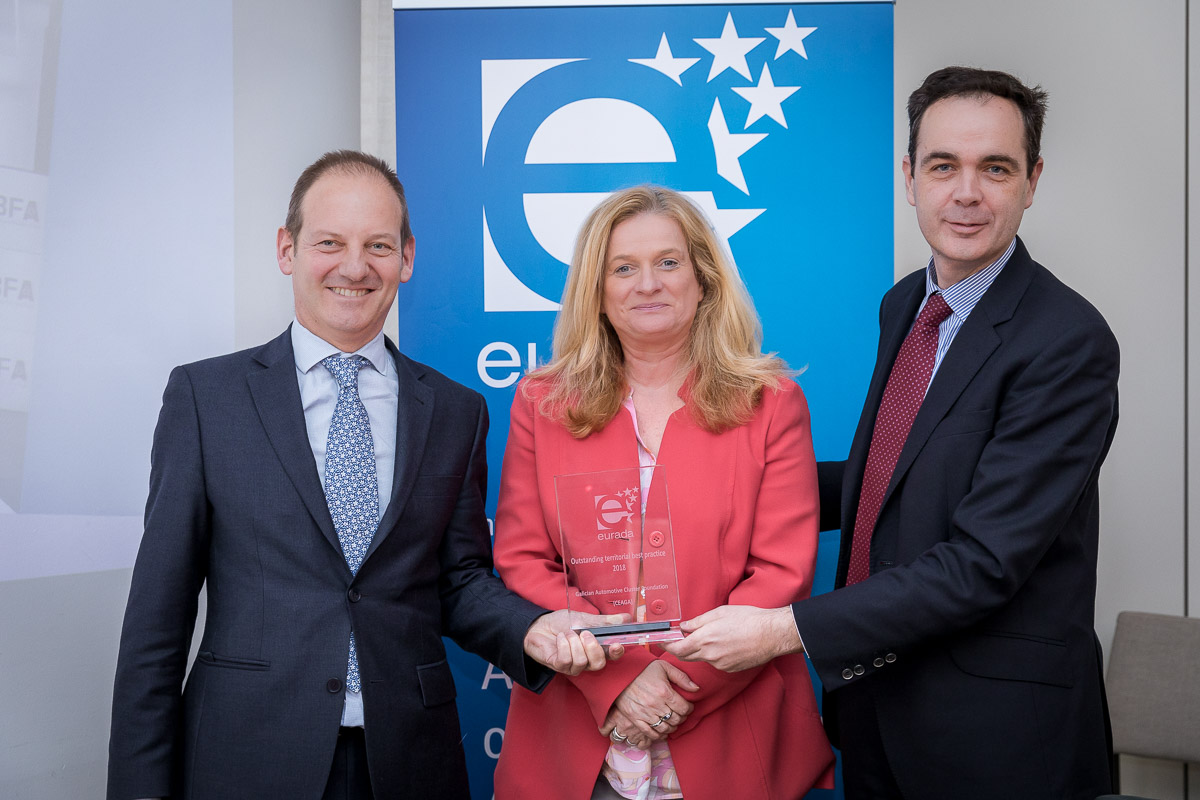 27 March 2019
The Business Factory Auto (BFA) initiative has been awarded by the European Association of Regional Development Agencies (EURADA) for contributing to economic growth and improving the competitiveness of companies in the automotive sector.
The award ceremony was held today, March 27, at the headquarters of EURADA, in Brussels (Belgium). The award was received by the Manager of the Cluster of Automotive Companies of Galicia (CEAGA), Alberto Cominges and, on behalf of the Xunta de Galicia, the Director of the Galician Institute of Economic Promotion (Igape), Juan Manuel Cividanes. The prize was given by the Head of Advanced Technologies, Clusters and Social Economy at European Commission, Ulla Engelmann.
EURADA is an association formed by about 100 regional development agencies in Europe with the aim of promoting the exchange of experiences and promoting best practices in the field of local and regional economic development. Annually, the association rewards the best initiatives of both EURADA members and other European agencies. This year, they have recognized the work of the BFA in the category of best practice undertaken by a non-member regional development agency.
The Business Factory Auto, promoted by the Xunta de Galicia, the Consortium of the Zona Franca de Vigo, Groupe PSA and CEAGA, is consolidating itself as a key player in the Automotive Sector of Galicia. With two editions already finalized and a third in progress, it has reinforced its role as a platform for acceleration and consolidation of new innovative companies.
Proof of this are the awards he has received in the last year. In December 2018, the initiative was recognized nationally by the National Federation of Innovative Business Groups and Clusters (Fenaeic), with the award for the "Best Broadcast Project 2018", delivered during the VI National Congress of Clusters. In October of the same year, he received the prize for the "best practice developed in a technology park" of the Association of Business and Technology Parks of Spain (APTE), and was named "regional partner" in the StartUp Europe Awards, of a character international, being the first automotive accelerator in Europe to achieve it.