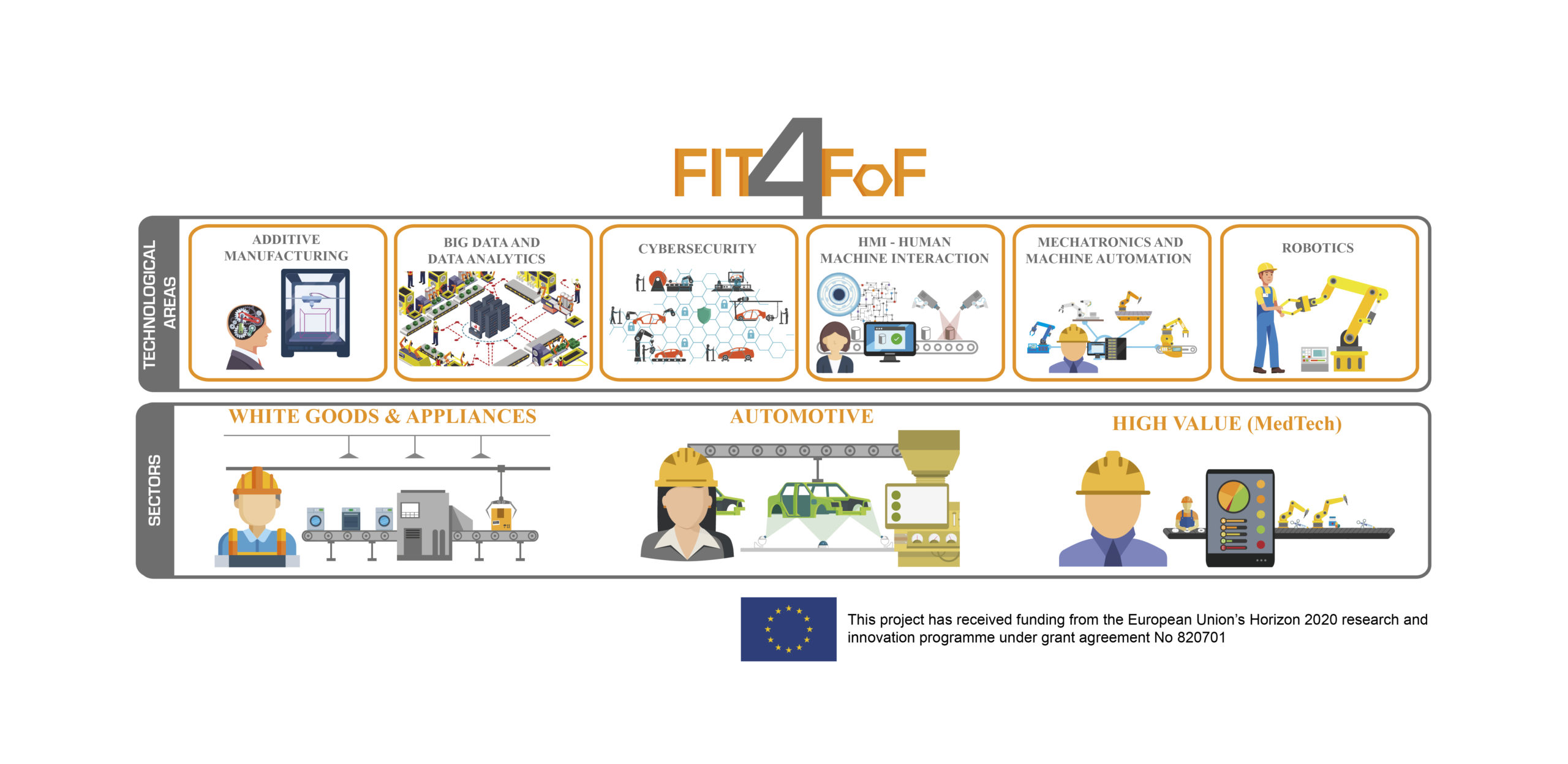 8 November 2018
CEAGA and 8 other European partners will work, for three years, to identify 100 new professional profiles in the factory of the future.
The project, approved by the Horizon 2020 Program of the European Union, is called "FIT4FoF: Making your Worforce Fit for the Factory of the Future". it is the only project of its kind in Europe.
The consortium is formed by 9 partners from 8 different countries: Spain, Portugal, France, Ireland, Germany, Romania, Italy and Denmark.
One of the main objectives of the project is the identification of at least 100 new professional profiles. It also includes the identification of new qualification needs, technical and non-technical skills and regional, national and European initiatives undertaken to improve worker training.
The project will focus on six technological areas: additive manufacturing, big data, cybersecurity, HMI (Human Machine Interaction), mechatronics (and machine automation) and robotics.
As part of the project, four training pilots will be developed in the participating countries to test training programs.
One of the training pilots will be developed in the Automotive Sector of Galicia. This pilot will focus on improving the industrial skills of workers, implementing a blended learning approach and testing it in the companies of the Sector with workers of different profiles (senior, junior, etc.).
To contribute to the creation of a connected European network formed by the industry, education providers and governments, a digital catalogue will be created to brings together the initiatives that improve the skills of workers developed in Europe.
The FIT4FoF project is an initiative of CEAGA within the framework of the P3CA Strategic Plan, launched by the companies of the Sector in 2016. It is framed in the area of "People" and in the action plan to train the professionals 4.0 for the needs of the future.
The consortium is formed by a combination of large industries, industrial clusters and educational and research organizations. In addition to CEAGA, it is constituted by: Cork Institute of Technology (Ireland); Instituto Politécnico de Bragança (Portugal); Arctic (Rumania); Boston Scientific (Ireland); Steinbeis 2i (Germany); L´École Connectée au Futur de l´industrie (France), University College of Northern Denmark (Denmark) and Mesap innovation Cluster (Italy).
The project launch meeting will be held at the Cork Institute of Technology (Ireland), next November 14 and 15.